About
Following the turn of the millennium, one could read an ad in an event magazine: "Naked men sing German hit songs." I wasn't sure whether they would really do it, because I didn't get the chance to check it up. But I liked the idea of it: Why not try it out myself I thought, as recently introduced "DJ Jupiter", striving to present the finest of German beat music and Easy Listening to a greater public. ATTENTION PLEASE, PARTY: ALL GET NAKED!! A risky venture? Maybe. But not a dull idea at least: After overcoming the usual inhibitions, initiating a rather bizarre but nonetheless togetherness promoting Hippie-dance-delight, a knees-up with a difference.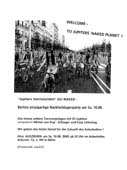 But it was to take another two years until it eventually became reality. Finally, on August 16th 2003, the Schlagernacktparty was born. And all the positive reactions we received encouraged us to carry on and extend into a recurring party what was initially just supposed to be a one-time event.
Over time the word got around and the party is well-known all over Germany by now: guests from Munich, Hamburg, Saxony, Cologne, Frankfurt, the Ruhr-Area and even from Switzerland visit our party regularly to participate and relish the chance to dance au naturel. In fact a lot of those who were just curious left as fans: our heartfelt thanks to the great audience. Your enthusiasm is our delight.